ZigZagZak



Developers

Publishers

None

Rating

NA

Genres

Puzzle, platformer

Release Date

Unreleased
ZigZagZak
is an unfinished Adobe Flash puzzle platformer video game that was developed by
Jacob Grahn
and
aeiowu
.
This was the fifth and final game in a series of collaborations between the two that was originally intended to result in them making a game for every day of January 2009.[1] Unlike the other collaborations, which were completed but not released due to lack of sponsorship, this game was abandoned half-way through development.[2]
Gameplay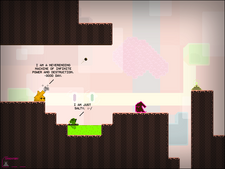 Players control Zack, a brown blob who is constantly searching for hats inside his dreams to cover his bald head. Each level would've taken place on a single screen and required users to solve a puzzle in order to receive a hat. Players also had an inventory where they could carry up to three items, hinting that they'd have to collect several objects throughout the level to progress.
Trivia
The game was originally titled Z, though it was taken and thus changed to ZZZ before receiving its final name.[3]
Gallery
References
↑ http://web.archive.org/web/20111029061854/http://casualgameinformer.com/wp/2009/04/15/an-interview-with-jiggmin/
↑ http://web.archive.org/web/20101226142838/http://www.intuitiongames.com/2009/01/zigzagzack-jiggminaeiowu-collab-the-final-frontier/