Volly-Bounce



Developers

Publishers

Kongregate, Newgrounds

Rating

T

Genres

Multiplayer

Release Date

2007-11-21 (K)

2007-11-23 (N)
Volly-Bounce
is an Adobe Flash online multiplayer video game developed by
Jacob Grahn
that was released on 2007-11-21. His 4th online game, it introduced numerous features and improvements that would carry over to subsequent multiplayer games, including
moderators
, private messaging and a dedicated account system.
Gameplay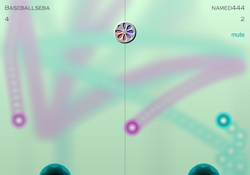 Volly-Bounce is an online game where players challenge one another to a one-on-one match of Volly-Bounce. Once accepted, they are sent to and each given control of half a court. Both have a circular paddle at the bottom of the screen that can be moved on their side horizontally, with the goal being to outscore their opponent by hitting more balls to their side and have them fall off the court. The top and sides of the screen act as barriers, making balls bounce off them. Players can also chat and send private messages while on the lobby.
Shut Down
Although the game's server had already been down for several months at that point, Jiggmin announced on 2015-09-09 that he would be dropping support for Volly-Bounce along with most other multiplayer games besides Platform Racing 2. He stated: "Managing [the games] servers is another time drain. They'll need to be streamlined or removed. I plan to keep PR2 running at least until PR4 is out, though."[1] The announcement also coincided with the launch of his new forum Freegoose.
There have been no fan projects to attempt and revive the game or set up private servers, leaving it unplayable.
Trivia
Volly-Bounce and Platform Racing 2 accounts were initially linked so that signing up for one game created an account on the other, though this feature was quietly dropped between 2011 and 2012.
The player list shows each user's PING to the server, the only one of Jiggmin's games to do so.
Despite its name, "Flag as Abusive" doesn't do anything.
Players have the following titles when they're a certain rank:

Puppy (1-5)
Beginner (6-10)
Moderate (11-25)
Shark (26-50)
Master (51+)

The experience system isn't displayed publicly, giving players no indication of how close they are to ranking up.
Clicking Derron on the title screen pulls a drop-down menu, revealing more servers were planned in case the game became popular.
The game was originally on Newgrounds, though an unknown bug caused only a black screen to display a few years after its release, leading to it being the only one of Jiggmin's games to get blammed by the site.[2] Its broken file can still be accessed, however.
References
External Links