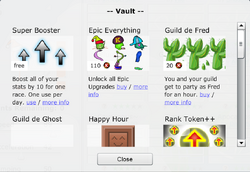 The Vault of Magics is the official in-game shop for Platform Racing 2 found only in the Kongregate version of the game where users can spend Kreds, the website's currency, on various items ranging from body parts to private servers.
The store was announced on 2013-05-14 in an effort to help raise money for various planned features in Platform Racing 4[1] before opening two days later.[2]
Vault
| Photo | Name | Description | Price |
| --- | --- | --- | --- |
| | Super Booster | Boosts stats by 10 for one match. Can be used once a day. | Free |
| | Epic Everything | Awards the buyer every Epic Upgrade. | 110K |
| | Guild de Fred | Gives the player and their guild a Giant Cactus body for one hour. | 20K |
| | Guild de Ghost | Gives the user and their guild a Very Invisible set for one hour. | 10K |
| | Happy Hour | Triggers a Happy Hour on the user's current server. | 50K |
| | Rank Token++ | Gives the user and their guild an extra rank token for one week. Up to 21 can be rented at a time, with the price increasing by 20k for each additional token. | 50K |
| | Frost Djinn | Gives the player the Frost Djinn set. | 50K |
| | Wise King | Awards the buyer a King set. | 30K |
| | Wise Queen | Adds the Queen set to the user's parts. | 30K |
| | Private Server 1 | Creates a private server only accessible to your guild that can be used for one day. Only guild owners can purchase this and moderators can not enter the server. | 20K |
| | Private Server 30 | Creates a server only your guild can access for 30 days. Only guild owners are allowed to buy this and moderators are forbidden from entering the server. | 300K |
Trivia
Both of the private server's FAQ sections hint at a future feature for guild owners to be able to set custom campaigns on them, though this was eventually scrapped.
The "Wise King" and "Wise Queen" parts were originally labelled the "King of Wisdom" and "Queen of Wisdom" as seen in the shop's announcement video.
References
Ad blocker interference detected!
Wikia is a free-to-use site that makes money from advertising. We have a modified experience for viewers using ad blockers

Wikia is not accessible if you've made further modifications. Remove the custom ad blocker rule(s) and the page will load as expected.