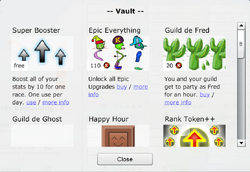 The Vault of Magics is the in-game shop for Platform Racing 2 found only in the Kongregate version where players can purchase various items from body parts to private servers with Kreds, the website's currency.
The store was announced on 2013-05-14 in effort to raise money for planned features in Platform Racing 4 before opening 2 days later.[1][2]
Vault
Photo
Name
Description
Price
Super Booster
Boosts stats by 10 for one match. Can be used once a day.
Free
Epic Everything
Unlocks every Epic Upgrade.
110K
Guild de Fred
Gives the player's guild a Giant Cactus body for one hour.
20K
Guild de Ghost
Gives the user and their guild a Very Invisible set for an hour.
10K
Guild de Artifact
Temporarily gives the user's guild an Artifact as a hat for an hour.
30K
Happy Hour
Triggers a Happy Hour on the user's current server.
50K
Rank Token++
Gives the user's guild a rank token for one week. Up to 21 can be rented at a time, with the price increasing by 20K for each additional token.
Frost Djinn
Gives the player the Frost Djinn set.
Wise King
Unlocks the King set.
30K
Wise Queen
Unlocks the Queen set.
Private Server 1
Creates a private server for one day accessible only by your guild. Only owners can buy this and moderators can not enter the server.
20K
Private Server 30
Creates a server only your guild can access for 30 days.
300K
Trivia
Jiggmin has said he dislikes paid DLC, saying "the unfairness of it just bugs me" when rejecting a store for Platform Racing 3 in 2010. This is why most items in the Vault of Magics are temporary and don't provide advantages over other players.
Both private server FAQs hint at an ultimately scrapped feature for setting custom campaigns.
The "Wise King" and "Wise Queen" parts were originally the "King of Wisdom" and "Queen of Wisdom" as seen in the announcement video.
References