Orbit



Developers

Publishers

None

Rating

E

Genres

Skill

Release Date

2007-02-21
Orbit is an Adobe Flash video game developed by Jacob Grahn that was released on 2007-02-21.
Gameplay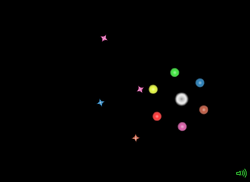 Players control a colorless ball with their cursor surrounded by colored balls and have to fend off spiky specks by touching them with their respective color. The game begins with a single colored ball that can be rotated around them using the arrow keys, with an extra being added every 20 seconds until six are in-play. Getting the center ball hit damages them and clears the room of enemies, with a third hit killing them and ending the game.
Trivia
This is the only one of Jiggmin's games to be exclusive to jiggmin.com. As such, it can only be played through archives.
Due to a bug within Flash, it's impossible to play the official game with Flash Player versions above 19, as the game only reads their first number (currently "2" instead of "20") when it runs a check, rendering it unplayable. The game can be modified to remove the check altogether, though.
Jiggmin created the game in one day.[1]
References
External Links