Kongregate Racing



Developers

Publishers

Kongregate

Rating

T

Genres

Racing

Release Date

2007-05-04
Kongregate Racing
is an Adobe Flash online multiplayer racing video game developed by
Jacob Grahn
that was released on 2007-05-04.
Gameplay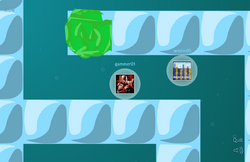 Players can login to the game with a username of their choice and select one of the seven default images, or use their Kongregate account and custom avatar. Users are then able to race on 12 pre-made courses available from the start with four other members.
Players control a bumper car-esque bubble with the objective being to reach the finish first. Completing races awards ranks to each participant that are used for high scores along with displaying each user's completion time and amount of deaths.
Levels
See also: Kongregate Racing/Levels
Blocks
See also: Kongregate Racing/Blocks
Updates
Aside from the first patch, which Jiggmin posted in the game's comment section, all changes are based on user reports as no official changelog was maintained.[1]
Version 1.1
- Added quit button during matches.
- Added a 2 minute timeout to kick people who don't move out of races.
- Fixed a couple minor bugs.
Version 1.2
- New "Push/Pull" level and arrows on the lobby access it.
Version 1.3
- Addition of boost blocks.
- New "The Deep" and "Hulk SMASH!" levels.
Version 1.4
- New "Mrs. Richards" level.
Version 1.5
- Lobby redesigned.
- New zoom out button on the lobby so players can view all levels at once.
- Sound icon moved to the bottom-right corner.
- New quit button design.
- New "Deathville" and "Variety Platter" levels.
Shut Down
On 2015-09-09, Jiggmin officially announced he would be dropping support for Kongregate Racing, along with other multiplayer games besides Platform Racing 2, although the game had been down for several months at that point. He stated: "Managing [the games'] servers is another time drain. They'll need to be streamlined or removed. I plan to keep PR2 running at least until PR4 is out, though."[2] The announcement also coincided with the launch of his new forum, Freegoose.
There have been no fan projects to attempt and revive the game or set up private servers, leaving it unplayable.
Trivia
This was the first racing game Jiggmin developed.
A limitation only permits one group of users to play a level at a time.
Matches can contain up to five players, the first of Jiggmin's games to allow more than four and the last until Platform Racing 3.
Despite ceasing support, users can access the nonfunctional lobby by right clicking and pressing "Play" several times, though levels remain unplayable.
Though not listed in-game, the racing theme is titled "Drums" in the code.
This was the first multiplayer game of Jiggmin's to contain a rank system, though it didn't provide in-game benefits.
References
External Links
Ad blocker interference detected!
Wikia is a free-to-use site that makes money from advertising. We have a modified experience for viewers using ad blockers

Wikia is not accessible if you've made further modifications. Remove the custom ad blocker rule(s) and the page will load as expected.