Kongregate Racing



Developers

Publishers

Kongregate

Rating

T

Genres

Racing

Release Date

2007-05-04
Kongregate Racing
is an Adobe Flash online multiplayer racing video game developed by
Jacob Grahn
that was released on 2007-05-04.
Gameplay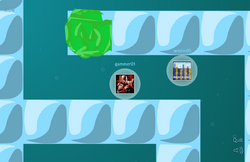 Players can login to the game with their Kongregate account and custom avatar, otherwise they may use a username of their choice and select one of the seven default avatars. Users are then taken to the lobby where they're able to race on 12 courses available from the start with up to four other people.
Players control a bumper car-esque bubble with the objective of reaching the finish line first. Completing races awards ranks to each participant, which are used for high scores along with their completion time.
Levels
Unlike future multiplayer games, courses do not have a minimum rank requirement in order to be played, allowing any user to race in all levels from the start.
| Level | Name |
| --- | --- |
| | Very Easy |
| | Easy |
| | Medium |
| | Hard |
| | Really Hard |
| | omygosh |
| | Push/Pull |
| | The Deep |
| | Hulk SMASH! |
| | Mrs. Richards |
| | Deathville |
| | Variety Platter |
Blocks
As these blocks are not given names in-game, their internal name is used.
| Block | Name | Description |
| --- | --- | --- |
| | Arrow | Pushes racers forward. |
| | Block | Basic block players can rest on. |
| | Finish | Marks the end of the race. |
| | Death | Briefly kills the player. |
| | Invisible | Can not be seen until hit. |
| | Sticky | Makes racers stick to it. |
| | Shove | Pushes players in the opposite direction. |
| | Weak | Crumbles away when hit. |
Updates
Aside from the first patch, all changes are based on user reports as no official changelog was maintained.[1]
1.1
- New quit button for matches.
- Added a 2 minute timeout to kick idling people out of levels.
- Fixed a couple minor bugs.
1.2
- New "Push/Pull" level and arrows on the lobby access it.
1.3
- Addition of boost blocks.
- New "The Deep" and "Hulk SMASH!" levels.
1.4
- New "Mrs. Richards" level.
1.5
- Lobby redesigned.
- Added zoom out button on the lobby so players can view all levels at once.
- Sound icon moved to the bottom-right corner.
- New quit button design.
- New "Deathville" and "Variety Platter" levels.
Shut Down
Although the game's server had already been down for several months at that point, Jiggmin officially announced on 2015-09-09 that he would be dropping support for Kongregate Racing along with most other multiplayer games besides Platform Racing 2. He stated: "Managing [the games] servers is another time drain. They'll need to be streamlined or removed. I plan to keep PR2 running at least until PR4 is out, though."[2] The announcement also coincided with the launch of his new forum Freegoose.
A fan-created private server was set up in September 2018.[3] As with other revived games, the server was coded from scratch due to the official code being unreleased. This version of the game also features a few minor changes, including adding Click Upon Dots' menu theme and the finish sound effect from the Platform Racing series.
Trivia
This was the first racing game Jiggmin developed.
A limitation only allows one group of players to be in a level at a time.
This is the first of Jiggmin's games to allow for matches to have more than four players and last until Platform Racing 3.
While not listed in-game, the racing theme is titled "Drums" in the code.
This was the first of Jiggmin's online games to have a rank system, though it doesn't provide in-game benefits.
References
External Links