News
2016-06-18
It has officially been confirmed that FreeGoose is Jiggmin's new website after his wife posted a photo of the two in a thread there.
Featured Article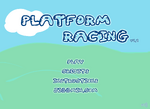 Platform Racing
(commonly abbreviated
PR1
) is an Adobe Flash multiplayer racing video game developed by
Jacob Grahn
that was released on 2007-06-29.
Read More
Poll
Which of the Platform Racing games is your favorite?
Ad blocker interference detected!
Wikia is a free-to-use site that makes money from advertising. We have a modified experience for viewers using ad blockers

Wikia is not accessible if you've made further modifications. Remove the custom ad blocker rule(s) and the page will load as expected.