Effing Hail

Developers
aeiowu, Jiggmin
Publishers
Armor Games, Kongregate, Newgrounds, Pogo.com
Rating
T
Genres
Action
Release Date
2009-04-07

2010-04-01 (AG)
Effing Hail is an Adobe Flash action video game developed by Jacob Grahn and aeiowu that was released on 2009-04-07.
The game was an immediate success, leading to a sequel a year later.
Gameplay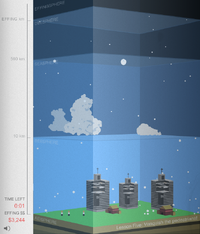 Effing Hail is a game that takes place during a hailstorm, where players control the updraft with their mouse. The main objective is to destroy buildings, airplanes, satellites and other objects with the falling hail, which causes more damage the larger it is. Hail grows in size the longer it stays in the air, growing at a rate of nearly one mile per second, and gets harder to remain airbone the bigger it gets.
The game also features a time limit that starts at two minutes and replenishes as the player completes more lessons. If a player cannot complete a level in time, they are allowed to restart at the same point, though at the cost of losing all their "Effing $$".
Trivia
About designing the game, aeiowu stated: "I wanted to capture the look and feel of playing with extreme weather patterns inside of an info-designed text book."[1]
The Armor Games version oddly replaces Wohlwend's real name with his alias on the title screen, while other versions feature both names.
Due to the game's textbook appearance, text on the results and title screen are cut off if not playing the full screen version on Armor Games.
An early screenshot of lesson one was posted by aeiowu with several differences from the final game:[2]

Instructions were originally on a large sticky note.
"Effing $$" was spelled out as "Effing Dollars".
The sound icon was white and placed on the right side of the screen.

Effing Hail was the second in a series of collaborations between Jiggmin and aeiowu that was planned to result in them producing one game a day for the month of January 2009.[3]
The full sound effect for happy blocks in the Platform Racing series plays when you complete a lesson, similarly to its use in Rolley-Ball.
The song in the game is "We are Loud" by Dynamedion, which was later used in Platform Racing 2.
Gallery
References
External Links