Click Upon Dots



Developers

Publishers

Kongregate, Newgrounds

Rating

E

Genres

Puzzle

Release Date

2007-02-08
Click Upon Dots is an Adobe Flash online multiplayer video game developed by Jacob Grahn that was released on 2007-02-08.
Gameplay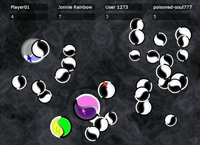 Click Upon Dots is an online game where users compete in matches with up to 3 other players to see who can click the most dots. A chat is also available on the lobby for users to converse in-between games.
Players can choose any username they want along with their cursor's outline and inner color, although they have to disconnect from the server if they wish to alter these settings later.
Shut Down
Although the game's server had already been down for several months at that point and multiplayer was broken for years, Jiggmin officially announced on 2015-09-09 that he would be dropping support for Click Upon Dots along with most other multiplayer games besides Platform Racing 2. He stated: "Managing [the games] servers is another time drain. They'll need to be streamlined or removed. I plan to keep PR2 running at least until PR4 is out, though."[1] The announcement also coincided with the launch of his new forum Freegoose.
There have been no fan projects to attempt and revive the game or set up private servers, leaving it unplayable.
Trivia
This was Jiggmin's first online game that he personally created.
While not referred to in-game, the menu theme's file is titled "Elevator Music".
The dots resemble the pre-2009 Pepsi logo.
This is the only one of Jiggmin's online games to lack a rank system.
While it's been removed from Kongregate since its shut down, the game's file and comment section are still accessable.
An unknown bug appeared in early 2012 that resulted in an error displaying whenever players entered matches, disconnecting them entirely. As players could still connect to the lobby and chat, it's unlikely this was due to Jiggmin prematurely discontinuing support for the game.
References
External Links