A change block is a block type in the Platform Racing series introduced in Platform Racing 3. The block's none-Classic designs somewhat resemble the item block of the previous installment by using question marks to denote their effect.
Properties
Every 2 and a half seconds, the block will change into another block randomly. It will not, however, change into a start or another change block to avoid potential issues. As it immediately begins changing at the start of a match, it's normal design isn't seen in-game by players.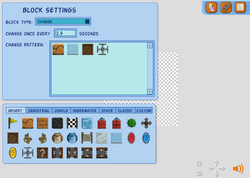 Users have more control over the blocks in the block editor, where they can control exactly which blocks it changes into and how often.
Ad blocker interference detected!
Wikia is a free-to-use site that makes money from advertising. We have a modified experience for viewers using ad blockers

Wikia is not accessible if you've made further modifications. Remove the custom ad blocker rule(s) and the page will load as expected.