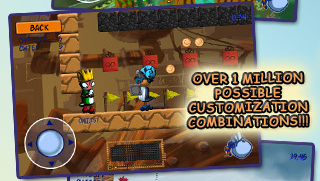 CWTest (Possibly a shortening of CrownTest) was an infamous account on Platform Racing 3 that was used by Jiggmin and Sparkworkz to test hats and use for promotional material. While it's unknown when it was created, the account attracted significant attention within the community in early 2011 when it was found to not only have all 18 hats (something only Jiggmin had) in the game, but an unknown 19th one as well. While some thought it was the mysterious hat that was accidentally given out to a few members on Halloween (which was later learned to be an early version of the Happy Hat), it was revealed to only be a second Bouncy Hat.
In July 2011, a user was able to log into the account and began using it to test unreleased hats, both for themselves and other players.[1] While initially claiming to have been given the account by Sparkworkz via email, this was later proved false when Sparkworkz stated otherwise in another email. This caused a huge controversy amongst the community, with some feeling that the user should lose access to the account and be banned, while some thought they should be allowed to keep it as it wasn't hacked into and Sparkworkz's fault for giving it an easily guessable password.
In the end, Sparkworkz chose not to ban the member and just changed CWTest's password. However, the same user was able to regain access to the account less than a day later, as the password was merely changed from "qwert" to "qwerty". After a couple days, Sparkworkz changed the password again and removed all hats from the account to deter any further attempts.
References
Ad blocker interference detected!
Wikia is a free-to-use site that makes money from advertising. We have a modified experience for viewers using ad blockers

Wikia is not accessible if you've made further modifications. Remove the custom ad blocker rule(s) and the page will load as expected.