Blossom Server

blossom-server.com's logo.

Owner

URL

Type of Website

Gaming

Release Date

2009-05-22

Discontinued

Late 2011
Blossom Server was an open-source server for online multiplayer video games developed by Jacob Grahn that was released on 2009-05-22 and discontinued in late 2011. A spiritual successor to Blossom known as Jiber was released in November 2017.[1]
Name
Blossom Server originally started out as Multiplayer Awesome Server before being combined into MultiPlawesome when it was publicly announced.[2] Multi was dropped in the next revision, then it was further simplified into Plossom before receiving its final name.[3]
History
An unnamed "new multiplayer server" was first hinted at in a 2008-12-01 blog before its official reveal five days later under the "MultiPlawesome" name.
[4]
More news began appearing in the following year, with blogs announcing that
Platform Racing 3
would run off it, its new
Blossom
name
[5]
, that any form of account information could be saved to a database
[6]
, and how it would be made up of two servers to split the work.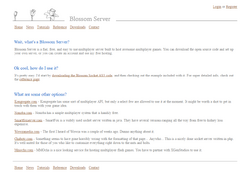 Blossom's website was launched and announced on Newgrounds on 2009-04-04,[7] although the server wouldn't be made downloadable until 2009-05-22.[8][9] Version 1.1 was released sometime in July or August[10], 1.2 in March 2010[11], and the final 1.3 revision between March and April 2011.
Discontinued
While not announced on his website, Jiggmin posted a bulletin on Blossom Server's homepage sometime between 2011-03-09 and 2011-04-11 stating that a 2.0 version would be out soon and the original would remain downloadable in the meantime, though it would no longer officially be supported.[12] However, the update was never released and Blossom's website was shut down later that year for unknown reasons.
The server is possible to set up if a user still has the files, though it's no longer possible to receive free hosting from Jiggmin.
Known Games Run with Blossom
Platform Racing 2
Platform Racing 3
References